Sensoren des Überwachungssystems von Serverumgebungen
Alarm- und Kommunikationszubehör Sensoren kompatible mit ENVIROMUX® E-2D, E-5D and E-16D
Automatisches Sprach/Pager-Wahlsystem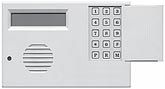 E-AVDS

Wählt bis zu 8 Telefone, Pager oder Handys an, sobald ein Sensor einen konfigurierbaren Schwellenwert über- oder unterschreitet.
Programmieren Sie bis zu 4 separate Eingangskanäle mit individuellen Optionen für Eingeschaltet/Ausgeschaltet, Eingangs/Ausgangs-Verzögerung und Aktivierung.
Speichern Sie bis zu 4 ausgehende Sprachmitteilungen. Erstellen Sie eine Nachricht für 4 verschiedene Arten von Alarmen.
Hören Sie während der ausgehenden Mitteilungskommunikation der überwachten Standort live ab, oder leiten Sie ein Zwei-Wege-Gespräch ein, um die Notfallsituation genau zu beschreiben.

Für Arbeits- oder Ruhekontakt-Verbindungen.
Schnittstellen zum E-16D über die Ausgangs-Relais-Verbindungen.
Abmessungen BxTxH: 15,2 x 5 x 3,8 cm (6 x 4 x 1,5 in (381 mm))
Behördliche Zulassung: FCC
Downloads & References
Low-Cost Automatic Voice Dialer System, Powered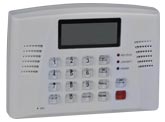 Calls up to 5 telephones or cell phones when a sensor goes out of a configurable threshold.
Program 3 input channels with individual activation options and entry/exit delay features.

E-2D: supports one input channel.
E-5D: supports two input channels.
E-16D: supports three input channels.

Create a recorded voice message of up to 20 seconds.
Programmable 105 dB siren for audible alarm when triggered.

Built-in AUX port for additional beacon or siren.

Call to remotely listen in on the area being monitored, broadcast messages to the room, or arm and disarm the dialer.
Interfaces with the E-2D/5D/16D via the Output Relay connections.
Optional 9VDC standby battery provides up to 20 hours of backup if power is lost (not included).
Dimensions WxDxH: 6.69x1.50x4.69 (170x38x119 mm)
Two normally closed or normally open circuit connections and one normally closed connection.
Includes 12V/1A country-specific power supply.
Max power consumption: 12VDC @ 480mA.
Regulatory approvals: FCC.
Downloads & References
USB 3G Modem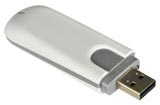 Sends SMS text messages to a pager or cell phone when a sensor goes out of range of a configurable threshold.
SIM card supporting SMS messaging required (not included).
Supports third generation (3G) digital cellular standards.
USB 2.0 stick with Male USB Type A connector
3G network band: HSPA+/HSUPA/HSDPA/HSPA/UMTS(WCDMA)-2100 MHz.
2G network band: GSM/GPRS/EDGE-850/900/1800/1900 MHz
When connected to the ENVIROMUX system, protrudes 2.68" from the edge of the case.
Compatible with E-2D/5D/16D.

Not compatible with E-SEMS-16U.
Downloads & References
Sirens & Beacons
Sirene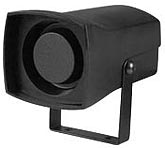 Gibt zur Abschreckung von Eindringlingen ohrenbetäubenden Lärm ab.
Ausgangspegel: 108 dB
Abmessungen BxTxH (mm): 38x43x61
Schraubanschluss.
2-adrige Schnittstelle.
Eingangsspannung: 6-12VDC.
Maximale Kabellänge: 30 m. (98 ft)
Aufsichtsbehördliche Zulassungen: RoHS
Alarmlichtsignal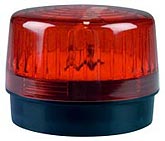 Gibt bei Aktivierung rotes Blinksignal ab.
Blinkfrequenz: 90 pro minute.
Schraubanschluss.
2-adrige Schnittstelle.
Eingangsspannung: 12VDC.
Maximale Kabellänge: 30 m. (98 ft)
Aufsichtsbehördliche Zulassungen: RoHS
Sensor-Zubehör
Sensorkabel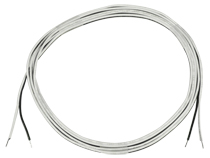 2-adriges Sensorkabel.
Zum Anschluss von Trockenkontaktsensoren an den E-2D/5D/16D.
Erhältliche Längen: 0,9/1,8/3/7,6/15,2/30,4/91,4/152,4 m
Aufsichtsbehördliche Zulassungen: RoHS, UL