Mini-überwachungssystem für Serverumgebungen Sensoren & Zubehör
Alarm/Kommunikations-Zubehör kompatibel mit ENVIROMUX® E-MINI-LXO
Modems
USB 3G-Modem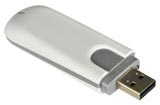 Sends SMS text messages to a pager or cell phone when a sensor goes out of range of a configurable threshold.
SIM card supporting SMS messaging required (not included).
Supports third generation (3G) digital cellular standards.
USB 2.0 stick with Male USB Type A connector.
3G network band: HSPA+/HSUPA/HSDPA/HSPA/UMTS(WCDMA)-2100 MHz.
2G network band: GSM/GPRS/EDGE-850/900/1800/1900 MHz
When connected to the ENVIROMUX system, protrudes 2.68" (68 mm) from the edge of the case.
Compatible with E-MINI-LXO.
Low-Cost Automatic Voice- Dialer -System , Powered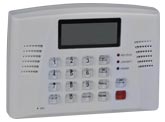 Calls up to 5 telephones or cell phones when a sensor goes out of a configurable threshold.
Program 1 input channel with individual activation options and entry/exit delay features.
Create a recorded voice message of up to 20 seconds.
Programmable 105 dB siren for audible alarm when triggered.

Built-in AUX port for additional beacon or siren.

Call to remotely listen in on the area being monitored, broadcast messages to the room, or arm and disarm the dialer.
Interfaces with the E-MINI-LXO via the Output Relay connections.
Optional 9VDC standby battery provides up to 20 hours of backup if power is lost (not included).
Dimensions WxDxH: 6.69x1.50x4.69 (170x38x119 mm (6.7x1.5x4.7 in))
For normally closed or normally open circuit connections.
Includes 12V/1A country-specific power supply.
Max power consumption: 12VDC @ 480 mA.
Regulatory approvals: FCC.
Downloads & References
IP-überwachungskameras
Wired IP-überwachungskamera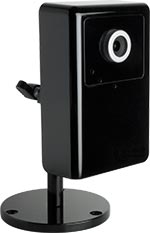 View and control the cSamera from the ENVIROMUX web interface, the camera web interface, included software, or with a compatible cell phone.
With the E-MINI-LXO, a triggered snapshot can be forwarded in alert e-mails.

A snapshot can be triggered by any programmed event (motion detection, door open/close, glass break, smoke, liquid detection, etc.).

Image sensor: 1/4" progressive scan CMOS sensor
Video Streaming: simultaneous Motion JPEG and MPEG-4
Frame rate: 30fps at 640x480 (VGA) resolution.
Lens: F2.0, 4.0 mm (0.16 in)
RJ45 connector.
Compatible with E-MINI-LXO and E-MICRO.
Regulatory approvals: CE, FCC, RoHS
Downloads & References